Casenet Springfield MO is the online database where you can access court records, docket entries, and more information from the Missouri state court system.
Over 45 Years of Proven Experience
Five-Time Lawyer of the Year
A Track-Record of Successful Outcomes
As a Missouri resident, you have a right to view and copy most documents and records filed in Missouri state courts. However, your right to access is not always guaranteed, and a court might seal records under particular scenarios. If you are interested in acquiring court records, you have several options for doing so.

One option is to visit the courthouse where the case is being handled and request the records in writing from the clerk of the court using a request form. See the Missouri Courts website for addresses, contact numbers, and other court information in Missouri. More conveniently, you may be able to access court records online at Case.net, the state's automated case management database.
Casenet Springfield Missouri
At Carver & Associates, many of our clients utilize Casenet Springfield MO as a method of finding additional details about their case. Case.net is an online database created to make it easier for individuals to get to details about court cases in Missouri. Case.net was a judicial action intended to make the judicial system more public for Missourians. The database was developed to guarantee that anybody can utilize it, and it is a great option for those who prefer a more hands-on approach to managing their court case.
Greene County MO Casenet Search Overview
Generally, Case.net provides public access to docket info, the pleadings and motions of a lawsuit's parties, orders and decisions of the court, evidence presented in court, and records of hearings. Some records are typically not open to the public, such as juvenile court records, trade secret info, and mental health examinations.
Greene County Clerk of Courts Case Search
Though the large bulk of public court records are available on Case.net, not all records that are available in-person with the clerk of court's office are available to view online. In criminal cases, for example, a prosecutor might ask for the case record to be momentarily removed from the Internet if a warrant has been requested and there is a possibility of danger to officers or others if the accused ended up being conscious of the warrant's issuance.
In addition, a court has the discretion to seal a record when there is an engaging reason. To do so, a court will release an order to seal files. In this order, the court needs to determine specific and concrete threats to commonly held values. If you are rejected access to court records, ask the clerk for the order sealing the files. If such an order exists, you might want to think about intervening in the case to challenge the court's choice. If you want to challenge an order sealing court records, don't hesitate to seek legal help from an attorney in Springfield MO to examine your options moving forward.
Trusted lawyers with Casenet advice in Springfield.
See also:

How to Use Greene County Casenet
Like most state courts in Missouri, Greene County's court records are available on Case.net. By following the steps below, using Case.net to search for and view court records is fairly simple, but our attorneys are always available to help you navigate your Greene County legal resources if you find yourself having trouble.
Casenet Greene County MO
Visit Case.net here. At the top of the page, you will see several tabs labeled "Litigant Name Search", "Filing Date Search", and "Case Number Search". The tab you should choose for your search will depend on which information you have about the case you are searching for.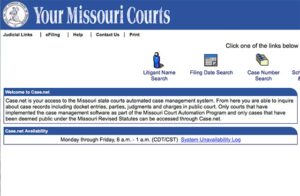 If you are looking for your own case, having your case number handy will make it easier to quickly find the correct information, so in this case, you will want to select "Case Number Search". This type of search will take you directly to the case's overview page.
If you only have the litigant's name, you will want to use the "Litigant Name Search", where you can scroll down the "search for cases in" bar and click on the Missouri county where the case is pending. If you are on the list, you may be contacted by a criminal defense firm who is marketing for cases. A common name will make the search harder and slower, so typing in more specific information will help you find the results you are looking for much faster. Alternatively, if you know the filing date and the court the case was filed with, select "Filing Date Search" and enter the information. For both of these searches, you will be taken to a list of cases that meet your search criteria. Once you find the case you are looking for, click on the case number to view the case's informative overview page.
Get help with Casenet questions in Springfield, Missouri.
Search Case Net Springfield MO
Most county cases and some city cases are on Case.net. To search for a Springfield-specific court case, you should choose the circuit court where the case was submitted under the "search for cases in" drop-down menu. Several Judicial Circuits lie in the local area, including:
30th: Benton, Dallas, Hickory, Polk, and Webster Counties
31st: Greene County
38th: Christian County
39th: Barry, Lawrence, and Stone Counties
We typically encourage our clients to overlook the "Filings due" and "Scheduled Hearings & Trials" tabs because these tabs are typically utilized by the clerk's office to keep an eye on deadlines for them, not necessarily for regular searchers. While the "Scheduled Hearings & Trials" tab will often have the next scheduled court date in your case, it does not always appear there.
Additionally, the "Scheduled Hearings & Trials" tab will often note the date a case is to be set for trial for the clerk's office. However, that is not a court date that you should be concerned about since your appearance is most likely not needed on that date. Feel free to reach out to a criminal lawyer Springfield MO with any questions.
Lawyers in Springfield MO are standing by for your Casenet questions.
Contact an Attorney About Casenet in Missouri
Should you, as a client, be utilizing Case.net? It's unneeded unless you are curious or wish to take a more hands-on approach with your case. As your lawyer, it is our job to keep you apprised of every action occurring in your case. However, if you are curious, desire to examine somebody else's criminal history, or are looking at somebody's participation in other legal cases, then Case.net is a great public resource.

To figure out the status of a specific case, please examine the case's docket entries in Case.net, contact your local clerk's office, or ask an attorney for help. Lawyers who are registered users of the database can see all public files on public cases if the file is offered digitally. In addition, attorneys of record can see some confidential files on public cases and files on confidential cases. Some private files might be viewable just by court personnel if set at a high document security level (6 and above).
Due to these limitations, Case.net might not always have what you are looking for, and a lawyer may be your best resource. To discuss your case with a trusted lawyer in Springfield, contact Carver & Associates today online or by phone at 417-350-1172 or 866-353-7921 for a free consultation. Our extensive trial experience and intricate knowledge of the Missouri state court system are what consistently place us among the best law firms in Springfield.
Don't delay. Learn more about Casenet from our lawyers today.
45+ Years of Proven Experience. Thousands of cases won. Award-Winning Representation.
Over 45 Years of Proven Experience
Tom has been a pillar of the Springfield MO legal community for four decades. He has represented over 300 clients in federal cases and literally thousands of clients in Missouri state courts.
Five-Time Lawyer of the Year
Five-time designation by Best Lawyers as "Lawyer of the Year" in the area of criminal law in Springfield, Missouri among numerous other accolades..
A Track-Record of Successful Outcomes
Tom is a fierce advocate for his clients and is known for helping families obtain the best outcome possible. Sentence reductions, dismissals and death row reversals to name a few.
The Power of Experience
---
When your life is on the line, you don't want to chance your future to a legal rookie. You need an advocate who has seen it all before and knows how to make the best out of a terrible situation.
Carver & Associates are not only experienced, but effective. Judicial matters can be complicated, and we are on hand to answer your questions and keep you informed on every aspect of your case. We take great pride in using our experience to benefit you.
Thousands of People Helped
Using our experience to secure positive outcomes for our clients.
Class A Felony Domestic Assault
Five Counts of Sex Trafficking